To relax after some months of hard working and paper grinding Lumi and I decided to head down to Big Sur and Carmel for some days of relaxing, hiking, and nature watching to reload our batteries. We started off on a lazy Wednesday and drove the 130 miles down to Carmel. Shortly before our destination we took a break, bought some food, and enjoyed ourselves at the beach for an hour or two. The sand was very fine-grained, the sun was shining, but the water was way to cold for swimming (hey, we are still in northern California!). After our lunch we continued to Carmel where we checked into our lovely hotel: Hofsas house.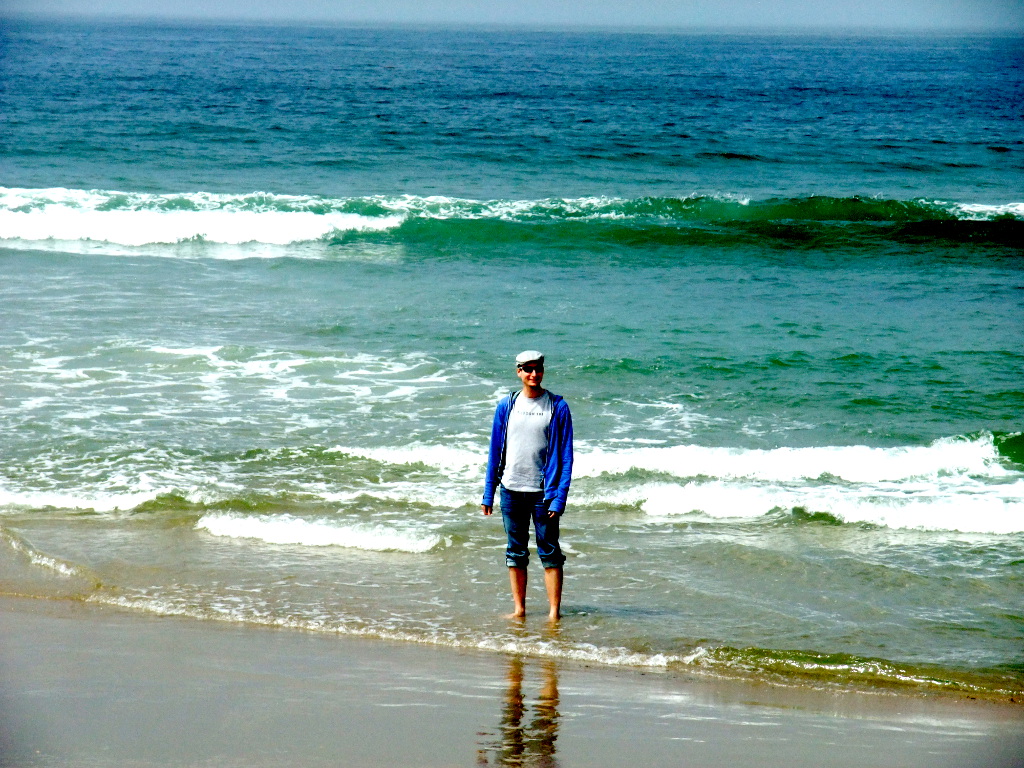 You can't say no to this lunch place.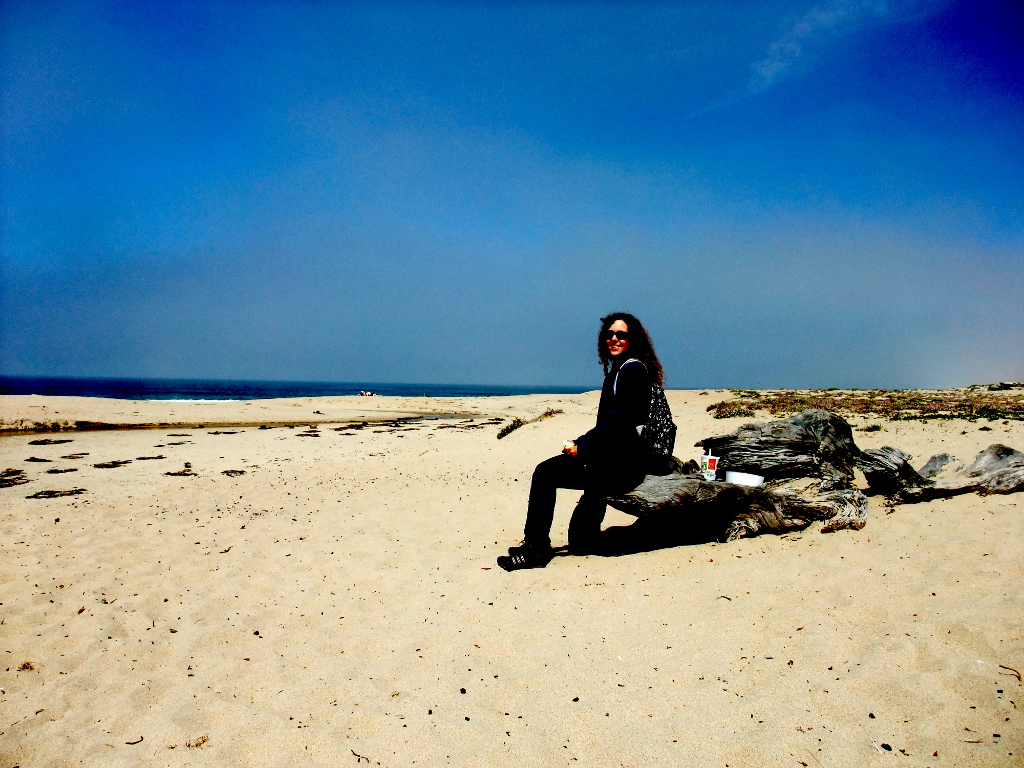 Lumi likes it too
For a change we were (for Swiss people) completely unprepared. We only brought all our hiking equipment, walking gear, GeoCaching equipment, and clothes for the 5 days that we would spend here in the Big Sur/Carmel area. We quickly skimmed the maps and saw that there are hiking paths but did not decide on anything. During the check-in the nice lady at the front desk told us about different hiking opportunities in the area, restaurants we had to check out in Carmel, and she also told us that we should head to Point Lobos as a teaser for what we'll see in the next couple of days. The following map shows how little of the area we were actually able to explore in these 5 days (I do not have a GPS log of Point Lobos and Carmel but both can easily be explored without any GPS devices). View 1st Map
Point Lobos (Wednesday)
Point Lobos is a state natural reserve directly at the pacific. The views are amazing and you can watch sea lions laying lazily in the shore while birds fly around them. The park features several short loops that you can walk. For us the park felt like one of the typical American parks where you can drive your car right to each short loop, walk for 15-30 minutes and head back to the car to get out of the park or to the next little loop. We really stretched our time in the park and did almost all the loops - we were especially amazed by Devil's cauldron. All in all we hiked for roughly 3 hours and walked most of the trails that are available. Pack your sweater as it can be really chilly - especially when you are no longer protected by the woods. Park entrance is 10$ per car and you get a great map.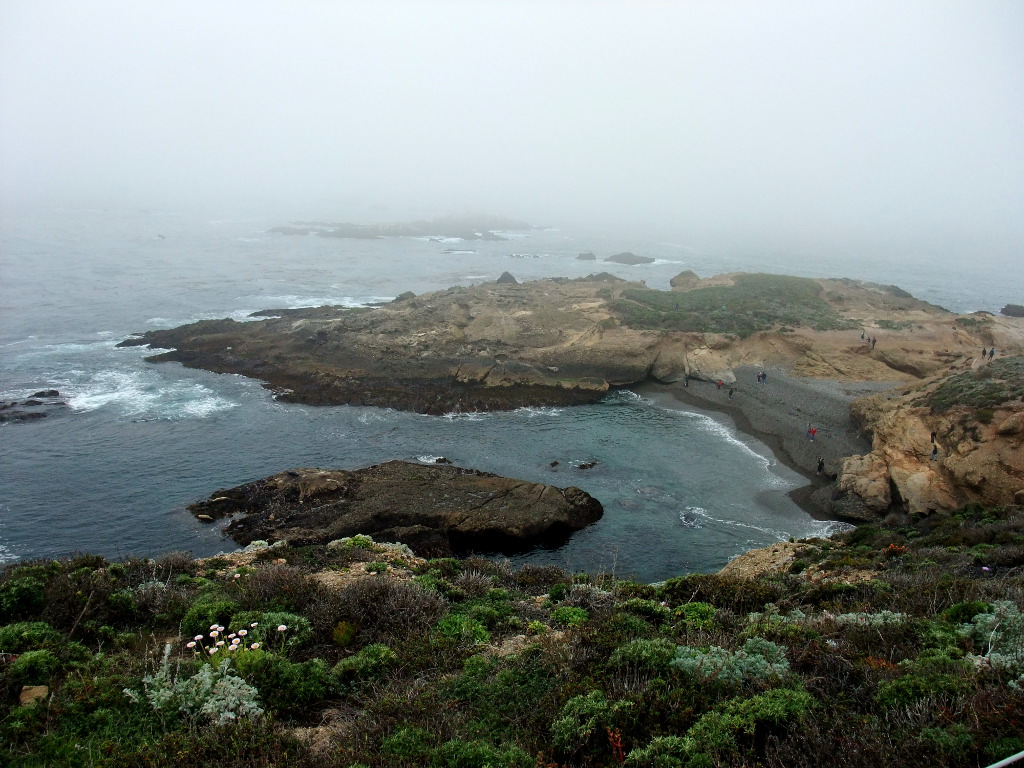 Devil's cauldron from above.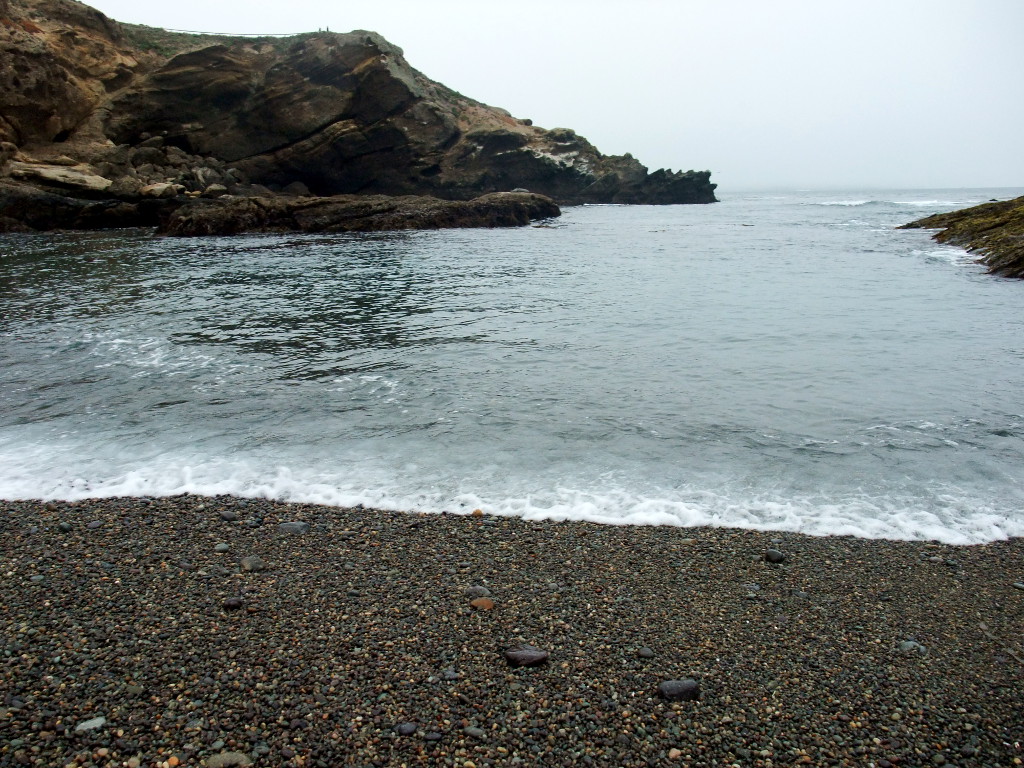 The soup is simmering.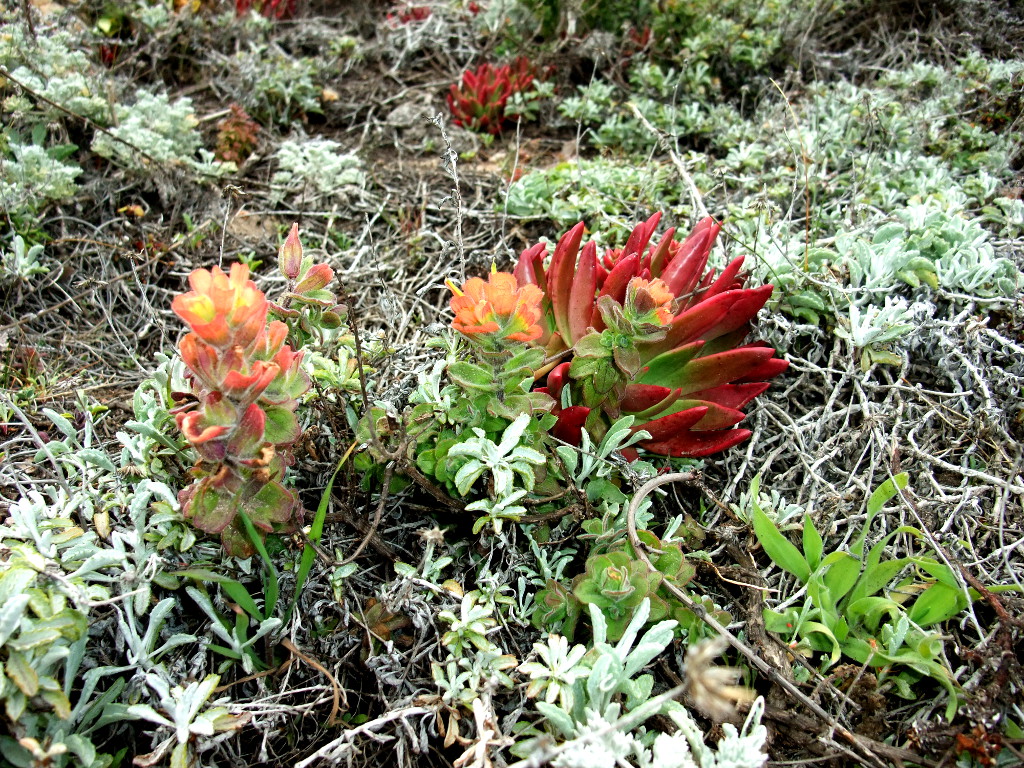 Beautiful flowers.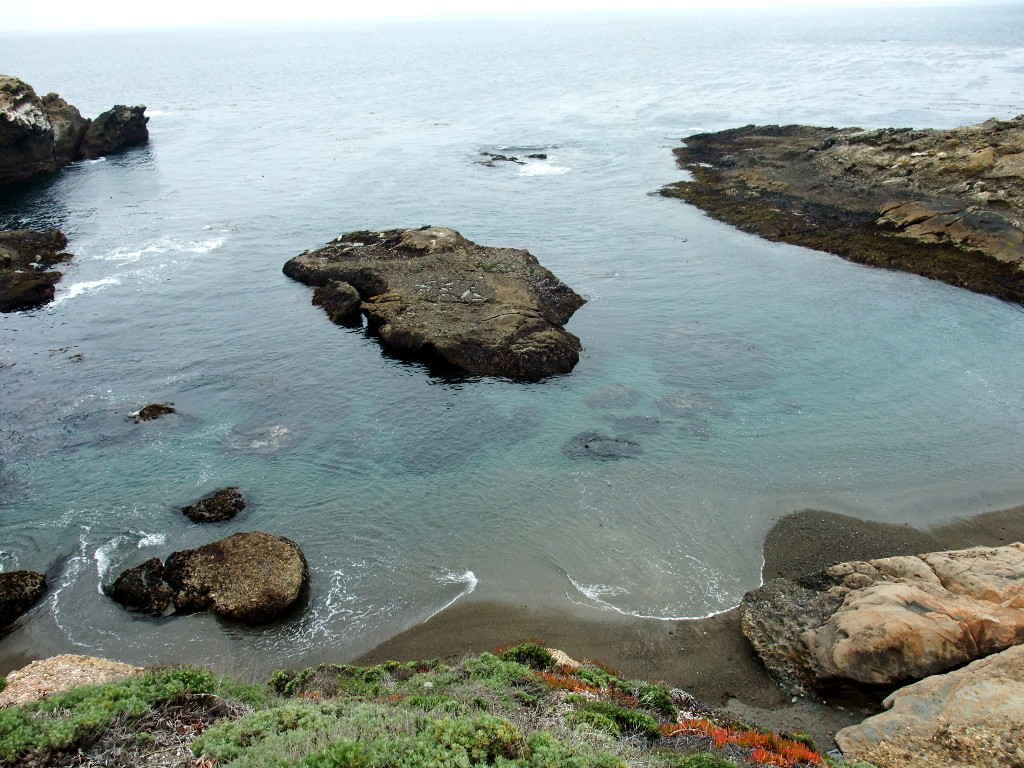 Beaches that invite for a (refreshing) swim.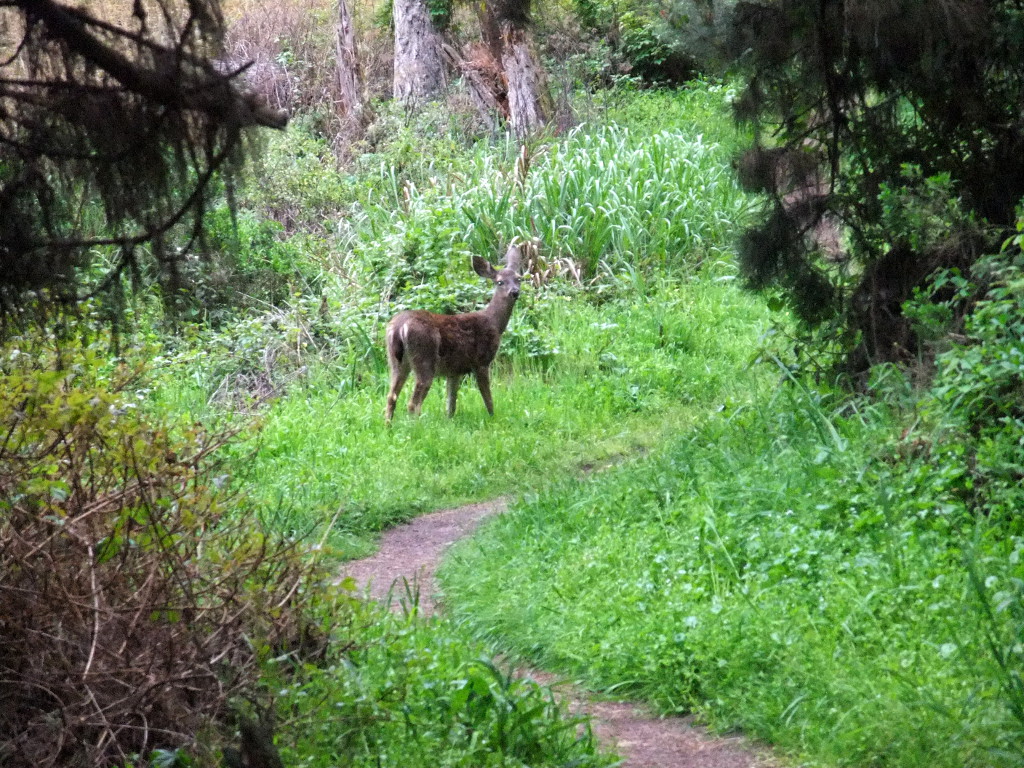 Wildlife as well.
Big Sur loop (Thursday)
On the next day we headed to Big Sur national park. On the 23 mile drive to the ranger station we stopped at the big bridge to take a couple of pictures (especially as we stopped here 3 years ago on our Green Tortoise trip). When we arrived at the Big Sur ranger station (day parking is 5$) we asked the ranger for a roughly 10 mile hike and he told us that we should do the short loop. We were a bit surprised that there were no maps and neither did my Garmin GPS have the hiking trails in its internal map, as an additional plus the cell phone had no reception either. So we headed off and just trusted our luck. The trail was amazing and we enjoyed the 7 mile hike to one of the base camps where we turned right to follow our loop. On a steep incline we met two fellow hikers that were apparently lost in the mountains. They had a (very bad and coarse-grained) map and no idea where they were heading. We told them their location and they joined our party on the way back to the ranger station.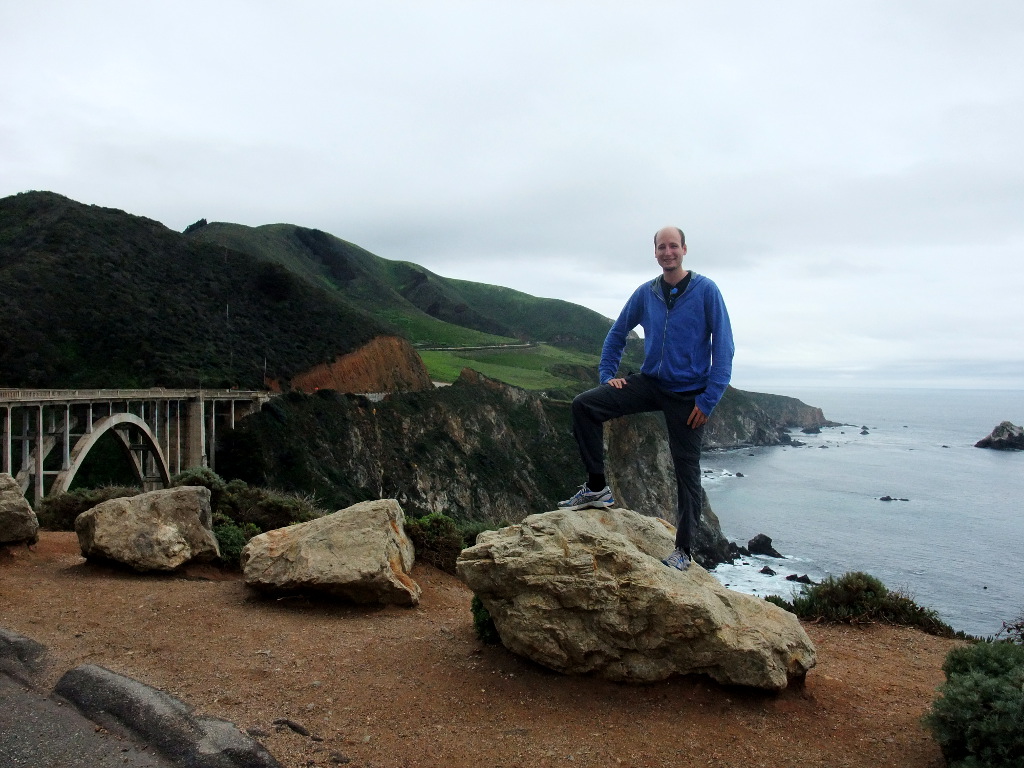 The famous bridge in Big Sur.
Our lunch place half-way through the hike.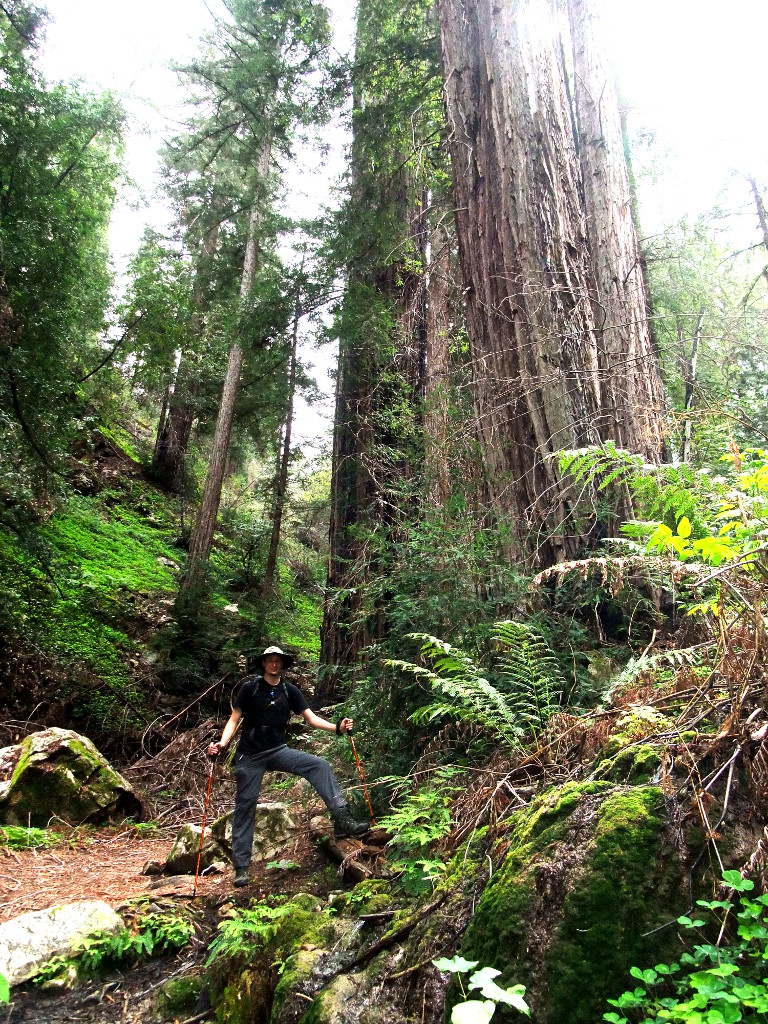 These redwoods are tall.
The loop was amazing even though we did not see the pacific due to a light drizzle and lots of fog. When we returned to the ranger station we were quite exhausted the 12 mile loop that the ranger told us about turned out to be a 14 mile loop with quite some elevation gain. We were quite happy that we made it and really enjoyed the sauna back at our hotel. We quickly ate some dinner and dropped into our beds for a good night's rest! View 2nd Map
Jacks peak county park and Carmel beach (Friday)
Today was a day to relax and to regain some power in our legs. After breakfast we headed towards Jacks peak county park where we went off for a couple of light loops around the small park. We enjoyed the nice views and the short distances between the trails. As part of our hike we also searched for some GeoCaches so that we can keep up with my parents. After returning to our hotel we enjoyed the pool, the sauna, and went searching for some more GeoCaches in beautiful Carmel. The beach was amazing and we enjoyed a breathtaking sunset at the beach before heading to a very tasty Japanese restaurant (Sushi Heaven). View 3rd Map
Garland ranch regional park (Saturday)
After we relaxed a bit on Friday we were ready for another longer hike in Garland ranch regional park. We started at around 10:30am and arrived in the park by 11am. There is abundant parking at the trailhead and a knowledgeable ranger at the visitor center informed us about the different trails. We bought a map and set off to explore the park. First, we headed straight up to the peak and enjoyed a break on Siesta point before going to the top. Instead of going back towards west as the ranger told us we turned east and headed back on a meandring trail. Apparently the trail is no longer open (although it's still one the map) and we had to sneak by a couple of houses. In addition, a bridge was missing and I had to carry Lumi across a little stream with cold cold water. We had to head back to the highway and sneak back into the park but we finally made it back and lifted a couple of more caches before we headed out. All in all we finished a 10.5 mile (16.7km) loop and we really enjoyed ourselves. Getting lost was actually a huge advantage as we strolled along paths that were not used for years, had to walk through long lost meadows and we actually felt like being on a huge adventure.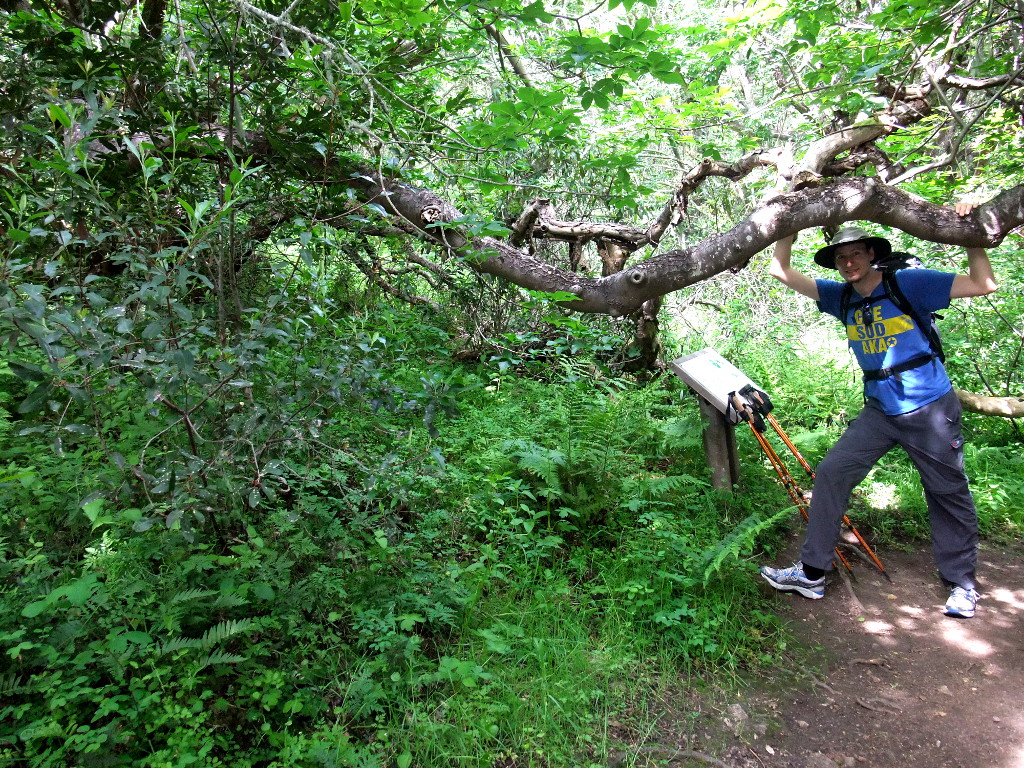 Near our second GeoCache of the hike.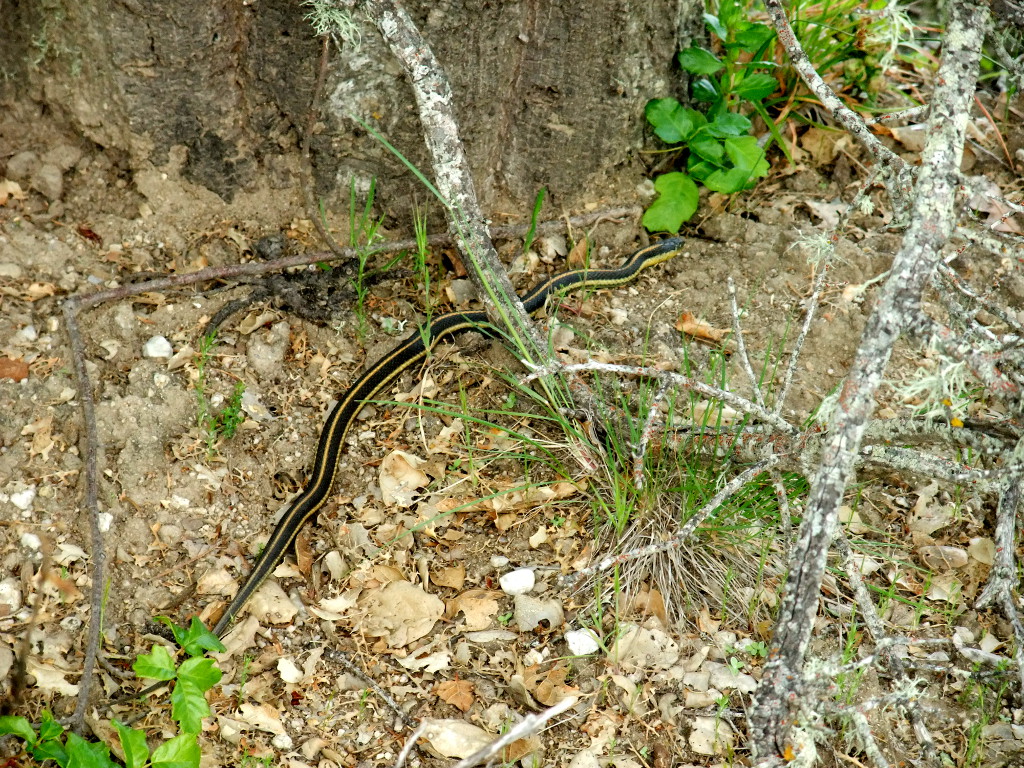 Snakes on our trail.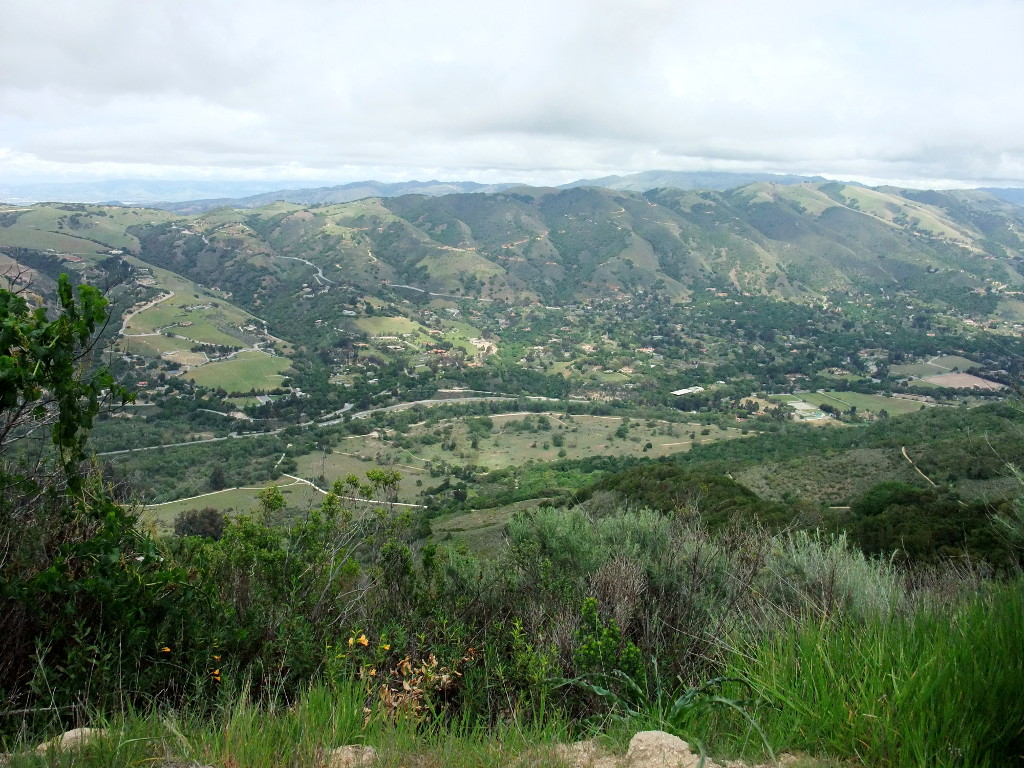 View from above.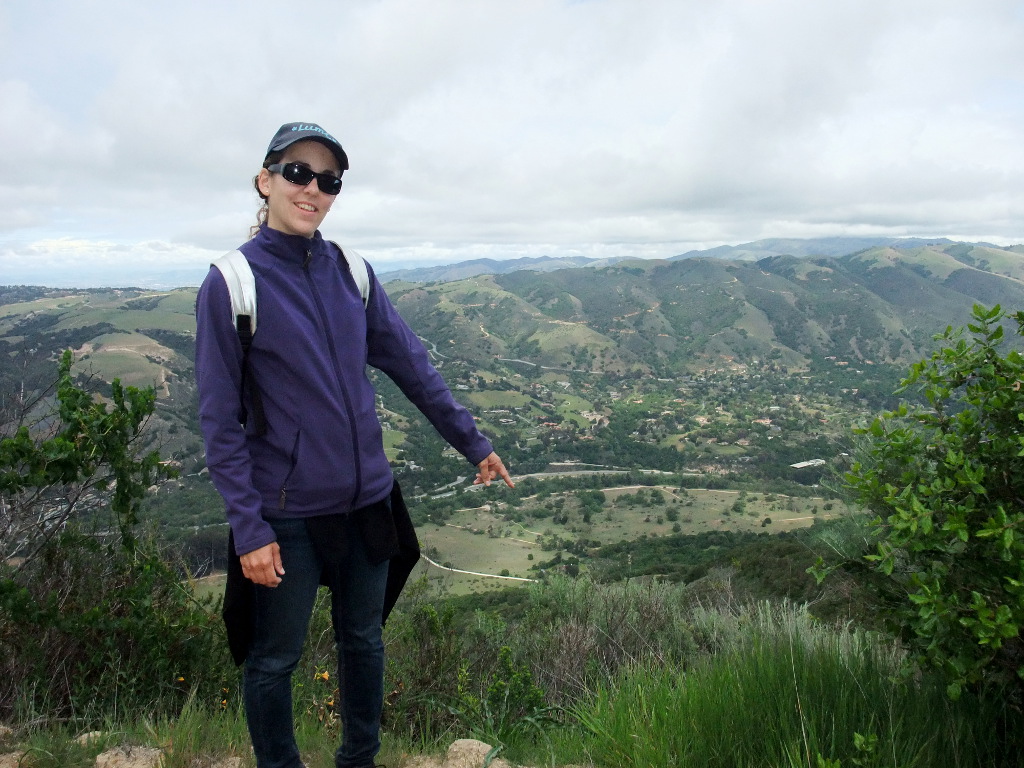 Yes, we started down there.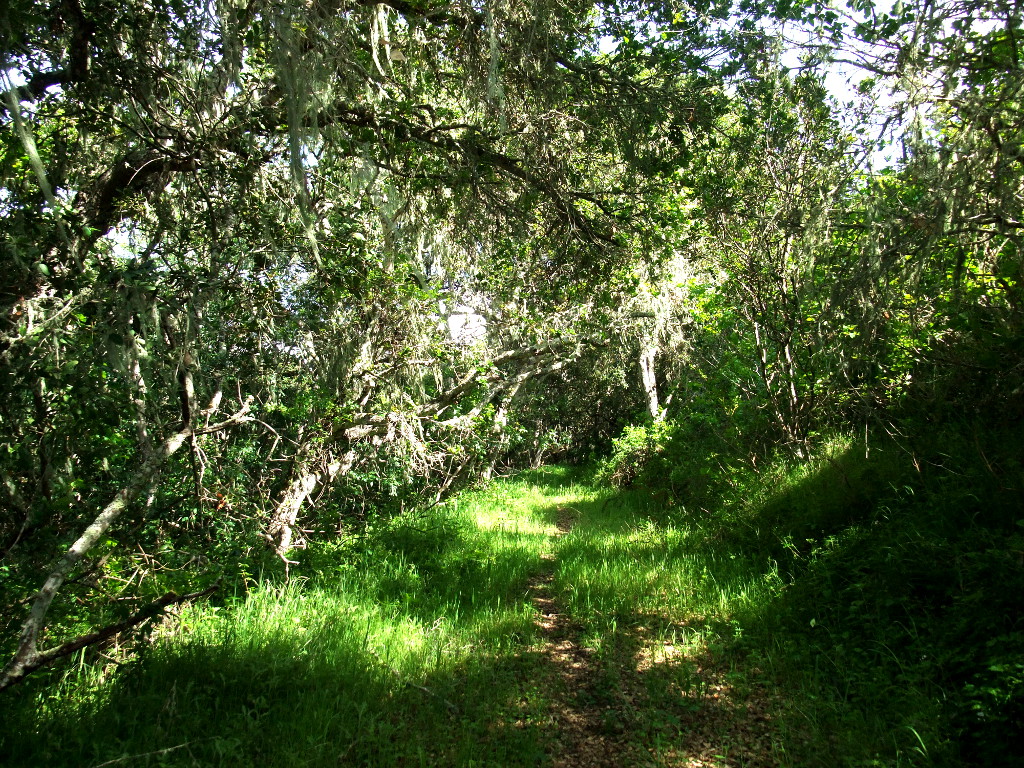 Path through the cursed forest.
Back in Carmel we again enjoyed the sauna (there's nothing better after a day of hiking) and returned to our Japanese chef of choice. Ah, what a great relaxing day. View 4th Map
Carmel beach and returning home (Sunday)
On our last day we decided to stroll once more through beautiful Carmel and relax a bit on the beach before we had to return back home to Albany. In general I can say that we enjoyed our short holidays and we had an active recovery where we hiked a lot, talked a lot, had great and amazing food, and just an awesome time together!